Overview
Pada review ini, Team Pemmz untuk kedua kalinya kembali mereview notebook Alienware M18X.  Namun istimewanya, untuk uji kali ini Alienware M18X yang masuk ke Lab kami adalah versi Extreme Edition . Versi EXTREME ini adalah versi Full Spec yang paling tertinggi dari semua opsi custom M18x di website Alienware.com. Dalam Review M18x sebelumnya kita sudah mengetahui sebagian besar peforma M18X, dan tentunya dengan kehadiran Alienware M18x  Full Extreme ini, maka tentunya team kami mengharapkan peforma yang jauh lebih tinggi dari yang standar spec yang sudah kami review sebelumnya.
Tanpa bicara panjang lebar, mari kita cek dahulu Spesifikasi dari M18X Extreme Edition:
Spesifikasi Utama:
Intel Core i7 Sandy Bridge 2920XM pre Overlclocked to 4.0Ghz Turbo Mode
16GB RAM DDR3 1600 MHz
SSD Raid 0 256×2 (512GB)
DUAL 2GB Nvidia Geforce GTX 580M SLI Mode
18,4 Inch Alienware LED display Full HD

Slot-Loading Dual Layer Blu-ray Reader (BR-ROM, DVD+-RW, CD-RW)

Killer BIG Foot Wireless N High Performance Wifi Network

High Capacity 12-cell Lithium Ion (97whr)

3.0 Megapixel HD Video and Picture Camera with dual digital microphones
4-Zone, multi-color RGB, 82 key keyboard with AlienFX™ lighting control5 user-programmable keys providing up to 15 distinct functions per application or game

Windows 7 Ultimate 64 bit
Satu kata yang bisa diutarakan adalah Mantab, gan! Untuk sebuah Notebook pengganti Desktop dengan memiliki Horse power yang sangat besar, bisa dikatakan kalo ini adalah salah satu Notebook Gaming TERKUAT saat ini. Apakah dengan spek seperti ini harganya sepadan dengan kemampuan dan peformanya??
Silahkan anda simak Test Benchmark berikut :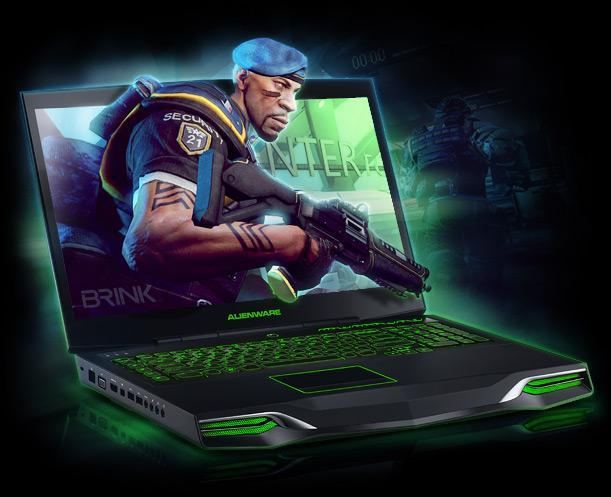 Alienware Stuff
Alienware Backlight Keyboard
Keyboard backlight yang menjadi andalan Alienware, terdapat penambahan untuk Macro keys , yang dapat dimanfaatkan gamer Enthusiast untuk Custom Key, dan biasanya banyak diapakai untuk Game MMO RPG yang menggunakan banyak kombinasi  key pada Keyboard.
Alienware Power Option
Ini merupakan Alienware Custom Power Option planning yang terdapat pada Alien command center, anda dapat mengatur semua power planning untuk berbagai keperluan terdapat setting default dan terdapat pula setting custom yang anda bisa atur sesuai selera.
Performance Test & Benchmarking
Pada performance Test dan Benchmarking akan dibagi menjadi 2 bagian, yaitu  Syntetics Benchmark dan in Game Real World testing.  Sebelum melakukan metode testing, terlebih dahulu kami mengoptimalisasi laptopnya dan juga mengupdate driver VGA ke yang seri terbaru namun dalam hal terbaru ini driver Beta driver Nvidia 280.27  beserta semua driver terbaru dari website Alienware nya termasuk untuk chipset, sound, dan networking. Ini untuk memastikan kalau hasil testing dapat maximal sesuai dengan perkembangan driver yang meningkatkan kestabilan dan peforma tentunya.
WEI (windows experience index)

CineBench Rel 11.5 64 bit
3dMark vantage
3dMark 2011

Devil May Cry DX10 Full Detail
Resident Evil 5 DX10 Full Detail
Dirt 3 DX11 Full Detail

Final Fantasy XIV
Mafia 2 Full Detail with APEX PHYSX High
Lost Planet 2 DX11 Full Detail
The Witcher 2
Crysis 2
Dapat dilihat Hasil Uji Test bahwa laptop ini sangat powerful untuk menghadapi setiap game dan aplikasi yang paling demanding sekalipun, Processor Extreme dan Dual GPU merupakan kebutuhan utama  bagi para gamer antusiast.
Secara overall, hasil uji tes kami pada Alienware M18X Extreme Edition ini cukup memuaskan team kami.  Hasil 3D Mark  2011 yang mencapai X 2096 dan 3Mark Vantage di angka 19490 SANGAT FANTASTIS untuk sebuah Notebook Gaming!
Untuk performa in Game Testing, Witcher 2 dan Crysis 2 dengan setingan Very High, Full Detail mencapai angka rata-rata di 70'an FPS. WOW!!
Tentunya dengan investasi  yang sudah dikeluarkan, user yang membeli Alienware M18X Extreme Edition mendapatkan performa yang EXTREME sesuai dengan dana yang dikeluarkan.
Conclusion
PROS :
EXTREMELY Powerful for Gaming Notebook
Extreme overclocking up to 4GHz by Alienware
Dual GPU configuration 580M SLI—- SPEECHLESS!!
DX 11 Full Support
Alienware LED Full HD display quality 18 inch , Very Sharp!!
DUAL RAID 0 SSD 512GB — Very Fast!!
HDMI in
7.1 HD Audio
Prestige and Exclusivity
Highest Specification Ever Made for a Gaming laptop
CONS :
Heavy Adaptor
Very Heavy (6kg)
FAIR:
Considered Very Expensive